Main Categories

♥Table of Contents

♥JDR Brazilian Embroidery Designs
♥Hearts and Flowers Designs 2 3 4
♥ Quilt Sampler Designs
♥ Brazilian Embroidery Learning Kits
♥ New Designs
♥Starter Package
♥ Sunshine's Treasures


♥ Brazilian Embroidery Guest Designers
♥Delma Moore
♥Candle In The Cellar
♥Karen Buell
♥Maria Freitas
♥Mary Kurbis
♥Debbie Kelley
♥Brandi Mikla
♥Anna Grist
♥Christmas Designs
♥Quilt Blocks

♥Threads and Ribbons
♥EdMar Threads
♥Thread Packets
♥Kreinik Metallic
♥Japan Threads
♥YLI Candlelight
♥Rajmahal Art Silk
♥Faceted Metallic Thread
♥Specialty - Metallic

♥ New Notions
♥ Notions and Supplies Index
♥Brazilian Embroidery Supplies
♥Tools and Gadgets
♥Tool and Needle Keepers
♥Supplies
♥Thread Organizers
♥ Embroidery Needles
♥Fabric Pens and Pencils
♥Needle Threaders
♥Hoops
♥ Glues, Sprays and Cleaners
♥Cases and Totes
♥Scissors
♥Fabric
♥Magnifiers and Lights
♥Pin Cushions
♥Beading Accessories
♥Punchneedle Supplies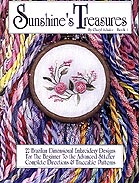 ♥Books and Videos
♥Brazilian Embroidery Books

♥Paper Embroidery
♥Stumpwork
♥Beads and Baubles

Brazilian Embroidery Hearts & Flowers Designs

Designed by Dexie Smith for JDR-BE
Graphics and Directions by Sunshine
Intermediate Brazilian Embroidery Design

Directions and Fabric Print Included
Stitching Area: 5.5" x 5.5
Registration Marks: 8" x 8"
Fabric: 12" x 12
A Quilt Block can be cut perfectly from the 8" square up to the 12" fabric cut size.

Directions for all the design elements are included.
A stitch review is provided for the bullion stitch, blanket stitch, cast-on stitch, cast-on stitch over needles, double cast-on stitch, alternating satin stitch, stem stitch and petal weaving.
If you have the basic knowledge of cast-on stitches, blanket stitches, bullions, French knots, double cast-on stitch, stem stitches and alternating satin stitch this design will be very easy.
Colors used in the sample – please choose your own favorite colors

Greenery: Iris 162, Glory 162, Iris 053
Small Frilly Rose: Iris 004
Rolled Rose: Iris 323 Right side of heart.
Rolled Rose: Iris 408 Left side of heart
Japanese Violet: Lola 140, Cire 069 (Yellow) Right side of heart
Japanese Violet: Lola 135, Cire 069 Left side of heart
Leona's Dew Drop: Iris 171, Cire 069, Iris 216
Right side of heart
Leona's Dew Drop: Iris 147, Cire 069, Iris 216
Left side of Heart
Minnesota Columbine: Lola 097, Lola 219, Iris 219, Iris 220, Iris 229, Cire 069

(If you have already purchased the design and the directions call for Cire' 113 - that is a yellow that is not available in Cire'. Use another yellow such as the Cire' 069 listed above.)

♥JDR 6108 Tammie's Heart
Choose Fabric Color

♥Full Skein Thread Packet

Add JDR 6108 (16 skeins) $25.40
(EdMar threads)

♥FAB15x15

Add Backing fabric to match $2.50



---


View Cart

Striving to keep you Wrapped In Stitches!
Sunshine's Newest Book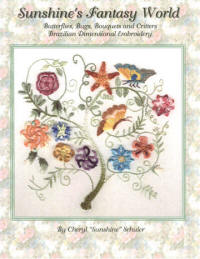 Sunshine's Fantasy World
Best Sellers
♥Thread Organizer
♥Thread Packets
♥Brazilian Embroidery 101 Book
♥Marvey Pen


Information
♥Thread Inventory Sheets
♥ Needle Size Charts
♥ Thread VS Needle Size
♥What do I need to begin?
♥Opening A Skein
♥Straightening Your Threads
♥Storing Your Threads
♥Technique "Levels
♥Knotting The Thread
♥Correct use of Hoop
♥ Gift Certificates
♥ Contact Us
♥ Printable Catalog

♥ Teachers Information
♥ Wholesale Information
♥Resources/links

Visit our totally Dimensional site.


---

See Gift Certificates for special someone.




JDR Brazilian Elegance Specializing in Brazilian Dimensional Embroidery but providing stitchers with much more!
Striving to keep you Wrapped In Stitches!
P.O. 37, Hunter, ND 58048-0037 USA
© 1999-2015 All Rights Reserved
All JDR patterns & designs are copyrighted for JDR Brazilian Elegance. The design s presented for any other designer on our web site are also copyrighted by the individual designer. No part of this material/website may be reproduced in any form, in whole or in part, by any means-mechanical, electronic, graphic, downloading, photocopying, photographing, tracing or means yet to be discovered without written permission.
Prices are subject to change with out notice