Title: Brazilian Dimensional Embroidery Pattern "Flower Garden"
Included in the package is the Trigger fabric screen printed with the design guide on it. The cover picture, suggested thread color list and the directions are also included.
Change the colors of the EdMar floss to any color you prefer - multiple choices - and it will become your personal flower garden of three dimensional embroidered flowers.
JDR 102 Flower Garden

Stitching Area: 11.5 x 12"
Intended Finished Size: 14" x 14"
Apx. Fabric cut size: 18 x 18"
Intermediate - Advanced Beginners
Brazilian Dimensional Embroidery Design.
Original Design by Rose Marie Diem.
Stitches in the design: Cast-on Stitch, Bullion, Blanket Stitch, Detached Buttonhole, French Knots, Satin Stitch, French Knots.
If you know how to do these stitches - you will need no other directions.
Flowers in this design and the weight of the EdMar thread used are listed below

♥JDR 102 Flower Garden
Pattern Number JDR 102
Screen printed design guide on Trigger Fabric
Cream Fabric
$10.50
White Fabric
$10.50
Thread Packet # of Skeins 17
$32.30
Matching Fabric 20 x 20 Backing
(If making a pillow)
$3.50
Pillow Cushion Pattern

Flowers Instructions included:
Camellia (Lola)
Japanese Violet (Lola)
Forget-Me-Knots (Glory)
Bell Flower & Bud (Lola and Glory)
Primrose (Glory)
Dogwood (Glory)
Spider Daisy (Lola)
Rose Bud (Lola)
Pincushion Flower (Lola)
Ruth's Rose Bud (Glory).
Field Flowers (Iris)
Greens (Lola and Iris)

---

SEARCH: type request, above, then press enter


Join Our Email Newsletter

Enter your E-mail address and first name, last name into box and press Subscribe. Newsletters will not be sent out more than once a week. There will be sales and information for subscribers only.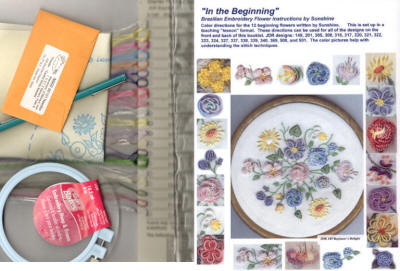 Brazilian Embroidery Starter Package $48.48 Value for $43.50