Title: JDR 107 Song of Spring
JDR 107 Song of Spring
Intermediate Beginners Brazilian Embroidery Design


Intended Finished Size: 8'"x 10"
Apx. Fabric Cut Size: 11 x 13+

Intermediate Beginners Brazilian Embroidery Design.
Original Design by Rose Marie Diem


Brazilian Dimensional Embroidery Stitches used in the design: Straight stitch, French Knots, Bullions, Cast-on Stitch, Blanket Stitch , Double Cast-on Stitch, Detached Buttonhole Stitch & Satin Stitch.
If you know the basic technique for these stitches you will need no other directions.

The directions tell you how to USE the above stitches to make the flowers in the design.
♥ JDR 107 Song of Spring
Pattern Number JDR 107
Screen printed design guide on Trigger Fabric
Cream Fabric
$9.00
White Fabric
$9.00
Black
$9.59
Thread Packet # of Skeins 27
$51.30
Suggested Threads:
Oval: Lola 135
Forget-Me-Nots: Glory 135, 008, 001
Dogwood: Glory 141, Iris 006 (Center: Lola 008)
Lily of the Valley: Iris 000
Meadow Daisy: Lola 000 (Center: Lola 008)
Larkspur: Iris 008
Bird: Glory 206, 001, 111, 135
Song Notes: Metallic Gold
Lazy Daisy: Lola 135 (Center :Lola 114)
Japanese Violet Bud: Lola 114 (Center: Lola 210)
French Hydrangea: Glory 136
Ruth's Rose Bud: Glory 135, Iris 135
5 Petal Forget-Me-Nots: Glory 154 (Center Glory 008)
Primrose: Glory 140, Iris 212
Fancy Daisy: Lola 001 & Lola 111 (Center Lola 008)
Joan's Rose: Lola 000, Lola 135
Cast-On Flower: Lola 125 (Center: Glory 154)
Wisteria: Iris 007, Glory 008
Japanese Violet: Lola 008, Lola 114 (Center Glory 154)
Dragon Fly: Lola 158, Iris 206, Gold Thread
Gerone Daisy: Lola 000, Lola 001 (Center: Glory 008)
Greens: Glory 080 for outside of the border. Iris 053 for inside of the border.
---

SEARCH: type request, above, then press enter


Join Our Email Newsletter

Enter your E-mail address and first name, last name into box and press Subscribe. Newsletters will not be sent out more than once a week. There will be sales and information for subscribers only.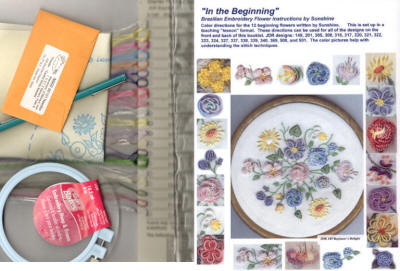 Brazilian Embroidery Starter Package $48.48 Value for $43.50