Title: JDR 136 Martha The Clown Brazilian Embroidery Pattern

Beginning Level Brazilian Dimensional Embroidery Design

JDR 136 Martha The Clown
Stitching Area: 6" x 11.25"
Intended Finished Size: 13" x 17"
Apx. Fabric Cut Size: 16" x 20"
Brazilian Embroidery Design By Ruth Griffith
The following basic stitching directions are NOT included: Stem Stitch, Straight stitch, Pistil Stitch, French Knots, Bullions, Long French Knots, Satin Stitch, Cast-on, Double Cast-on. If you know the basic technique for these stitches you will need no other directions. The directions tell you how to USE the above stitches to make the flowers in the design.
♥ JDR 136 Martha The Clown
Choose Fabric color

♥Full Skein Thread Packet

Check the box to also add JDR 136 TP $25.50 (15 skeins)


♥FAB20x20

Check the box to also add Backing fabric to match $3.50



The following is a list of thread weights and colors used in the sample. These are only a suggestion.
Greens: Iris Hat: Iris 206 and DMC Gold. Worm: Glory -Any green will work
Eyes: Lola 206
Hair: Boucle` 114, 111
Eye Brows: Lola 117
Eye lashes: Iris 206
Nose and mouth Nova and Iris 152
Face: Iris 126
Forget-Me Not: Glory 133
Cast-on Flower: Lola 133
Violet Buds: Lola
Daisy: Lola 114
Frilly Rose: Lola or Frost 052
Stand-Up Button Mum: Lola 123
I would suggest considering the following colors as alternate choices for this design. 022, 035, 073, 103, 113 and especially 033.
---

SEARCH: type request, above, then press enter

Join Our Email Newsletter

Enter your E-mail address and first name, last name into box and press Subscribe. Newsletters will not be sent out more than once a week. There will be sales and information for subscribers only.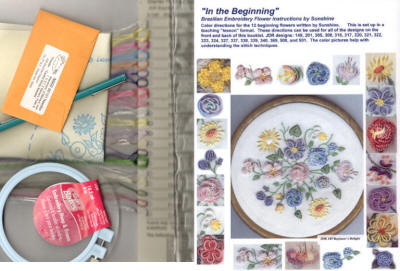 Brazilian Embroidery Starter Package $48.48 Value for $43.50