Title: JDR 142 Butterfly In Bloom Brazilian Embroidery Design
Brazilian Embroidery Design By Ruth Griffith Graphics and Directions by Sunshine. Stitching Area: 8.75" x 7"
Intended Finished Size: 14" x 14"
Apx. Fabric Cut Size: 17 x 17"
Stitches used: satin stitch, blanket stitch, detached blanked stitch, cast on, double cast on, daisy, chain stitch, couching, French knot, leaf, herringbone. The stitcher is expected to know how to do these stitches. The following explains how or where to use them.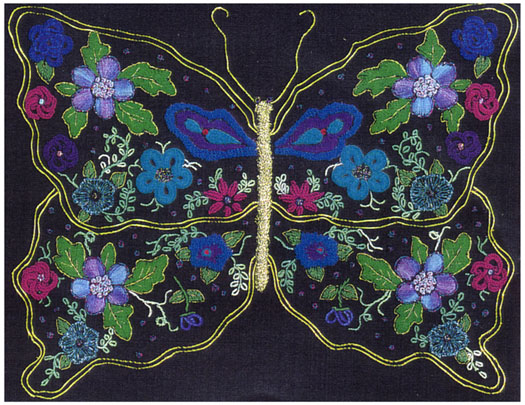 ♥JDR 142 Butterfly In Bloom
Choose Fabric color

♥Full Skein Thread Packet

JDR142 TP $24.70 (13 skeins) For Cream or white fabric

♥FAB20x20

Add Color Backing fabric to match $3.50 (cream or white)




Threads and color suggestions (worked on black fabric). Iris 212 -Turquoise. Iris 117 -Purple. Iris 139 - Blue. Iris 160 -Green. Lola 204. Lola 201. Lola 220. Kreinick 664 and 034 can be replaced with beads. Zeta 618 (optional) or Glory 051 or Delta BS-15. Iris 172 Fine gold metallic thread. 3 inch yellow 4 ply yarn, metallic gold ribbon floss. Japan gold couched with fine metallic thread.
---
Threads and Color suggestions used on cream background Center Cire or Zeta works well for this part. Iris can be used also. By untwisting the iris, a more satiny look can be achieved. Colors similar to 136 and 218 are what was used in the picture. Lola 125, Cire (or Iris)018 or 021 Outline of petals :Kreinck # braid, color #9294 Cast on flower: Iris 218 and 112. Greens : Iris 216 and Glory of harmonizing
Double cast on Daisy : Iris 125.
Impatiens : Iris 218. Glory 136
French Hydrangea: Iris 112 One white glory for the center. Lola 126. Sequins and beads are scattered in open spaces and centers of flowers.
---

SEARCH: type request, above, then press enter

Join Our Email Newsletter

Enter your E-mail address and first name, last name into box and press Subscribe. Newsletters will not be sent out more than once a week. There will be sales and information for subscribers only.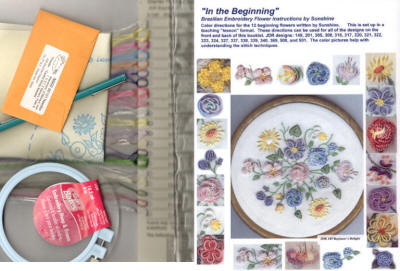 Brazilian Embroidery Starter Package $48.48 Value for $43.50