Brazilian Embroidery Design: Sweetheart Bouquet

JDR 157 Sweetheart Bouquet
Intermediate Brazilian Embroidery Design by Ruth Griffith

Stitching Area: 2.75" x 5"
Intended Finished Size: 5" x 7"
Apx. Fabric Cut Size: 11 x 13"

Dogwood: Iris 103, Glory 143, Lola 114
Stock: Lola 000
Spider Daisy: Iris 114, Glory 143
Fuchsia: Lola 204, Lola 083, Glory 204
Mini Rose: Nova 135
Iris: Lola 077, Iris 114
Japanese Violet Bud: Lola 114, Lola 111
Bossa Nova Rose: Lola 083
Spider Flower: Lola 111
Greens: Iris 079 or 121, Glory 051

The following basic stitching directions are NOT included: Straight stitch, French Knots, Pistil Stitch.

There is a Refresher lesson on Stem Stitch, Cast-on Stitch, Bullions, Leaf Stitch, Couching Stitch, Double Cast-on Stitch and Detached Buttonhole Stitch is included.

The directions tell you how to USE the above stitches to make the flowers in the design.

♥JDR 157 Sweetheart Bouquet
Choose fabric color

♥Add Full Skein Thread Packet

Add JDR157TP $24.70 (13 Skeins)


♥FAB15x15

Add Color Backing fabric to match $2.50



---

SEARCH: type request, above, then press enter

Join Our Email Newsletter

Enter your E-mail address and first name, last name into box and press Subscribe. Newsletters will not be sent out more than once a week. There will be sales and information for subscribers only.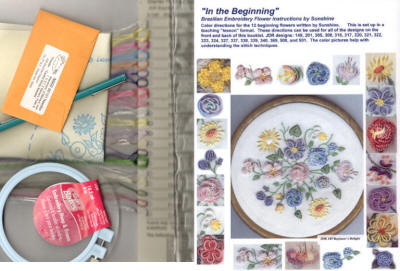 Brazilian Embroidery Starter Package $48.48 Value for $43.50