Brazilian Embroidery Design: Floral Matt
JDR 159 Floral Matte
Stitching Area: 8.75" x 11"
Intended Finished Size: 11 in x 14 in
Apx. Fabric Cut Size: 15 x 17"

Brazilian Embroidery Design by Ruth Griffith Directions and Graphics by Sunshine
Thread weight requirements, please make your own color choices
Cast-on Daisy: Lola135.
Frilly Rose: Lola 027.
Rolled Rose: Lola 097
Field Flowers: Iris 037 or Beads.
Greens: Iris 051 Glory 024
The following basic stitching directions are NOT included: Straight stitch, Stem Stitch, French Knots, Bullions & Cast-on Stitches

If you know the basic technique for these stitches you will need no other directions. The directions tell you how to USE the above stitches to make the flowers in the design.

♥JDR 159 Floral Matt
Choose fabric color

♥Add Full Skein Thread Packet

Add JDR159TP $15.20 (8 skeins)


Add Color Backing fabric to match $3.00


---

SEARCH: type request, above, then press enter

Join Our Email Newsletter

Enter your E-mail address and first name, last name into box and press Subscribe. Newsletters will not be sent out more than once a week. There will be sales and information for subscribers only.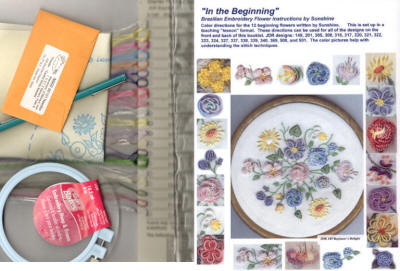 Brazilian Embroidery Starter Package $48.48 Value for $43.50