Brazilian Embroidery Design: Chelsea's Fancy Daisy JDR 179
Stitching Area: 2" x 6.5"
Intended Finished Size: 10" x 12"
Apx. Fabric Cut Size: x " 13 in. x 15 in.

Design Fits a 8 in. x 10 in. oval nicely)

Advanced Beginners Brazilian Embroidery Design

Suggested Thread Choices: Fancy Daisy: Lola 127 Lola 118 Greens: Iris 099
Stitch reviews are provided for the following stitch techniques: Stem Stitch, Lazy Daisy Stitch, Bullion Stitch, Blanket Stitch and French Knots. The directions tell you how to use the stitches to make this design.
♥JDR 179 Chelsea's Fancy Daisy

Choose fabric color

♥Add Full Skein Thread Packet
Add JDR179TP $5.70


♥FAB15x15
Add Backing fabric to match $2.50


---

SEARCH: type request, above, then press enter

Join Our Email Newsletter

Enter your E-mail address and first name, last name into box and press Subscribe. Newsletters will not be sent out more than once a week. There will be sales and information for subscribers only.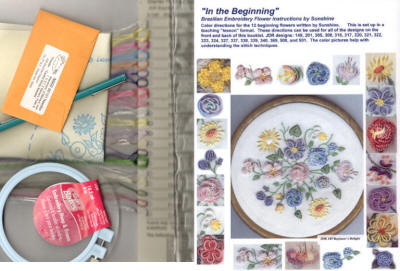 Brazilian Embroidery Starter Package $48.48 Value for $43.50