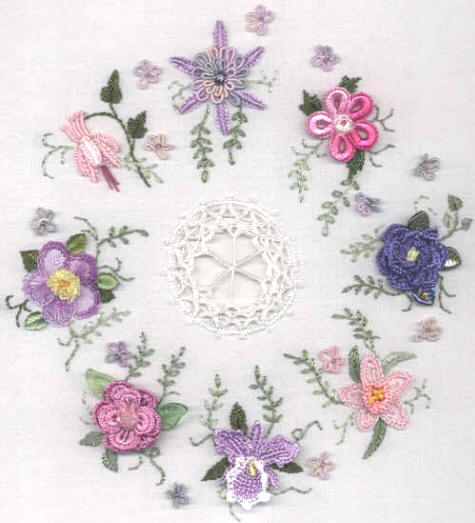 Brazilian Embroidery New Design: Ruth's Flower Shop Wreath
15 in. x 15 in. Stitching Area: 7.5" x 7.5"
Intended Finished Size: 15" x15"
Apx. Fabric Cut Size: 20 x 20" Advanced Brazilian Embroidery Design
Color recommendations are below.

There is a Bead and Bauble Bag available for this design.
There is a Review for the following stitches included:
Stem Stitch, Leaf Stitch, Couching, French Knots, Bullions, Cast-on Stitches, Detached Buttonhole Stitch, Drizzle Stitch, Blanket Stitch, Double Cast-on Stitch.

♥ JDR 191 Flower Shop Wreath
Pattern Number JDR 191
Screen printed design guide on Trigger Fabric with directions booklet
Cream Fabric
$18.00
White Fabric
$18.00
Bead & Bauble Bag
$3.00
Thread Packet # of Skeins 23 Colors listed below
$43.70
Matching Fabric 20x20 Backing
(If making a pillow)
$3.50
The following is the suggested thread weights and colors used in the sample:
The Lace Center: Iris 000
Camellia: Lola 117, 114
Daffodil: Iris 135, Lola 153, Glory 114
Dazzler: Lola 218, Cire 083
Double Columbine: Iris 028, 125
Colorado Columbine: Glory 142, Lola 135
5 Petal Daisy: Iris 028
Wild Rose: Glory 041, Glory 134
Old French Rose: Iris 143
Orchid: Lola 125, Iris 000, Glory 114
Greens: Iris 149, 050, 051, 053, 040, 121, leaf beads
---

SEARCH: type request, above, then press enter

Join Our Email Newsletter

Enter your E-mail address and first name, last name into box and press Subscribe. Newsletters will not be sent out more than once a week. There will be sales and information for subscribers only.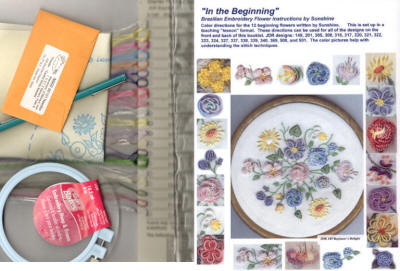 Brazilian Embroidery Starter Package $48.48 Value for $43.50