Brazilian Embroidery Design: Apple Blossom Time

JDR 198 Apple Blossom Time Brazilian Embroidery Design Design Size: 7 Ĺ x 8 Frames nicely in a 8 x 10 oval. Thread Suggestions: Branch: Lola (029)
Leaves and Twigs: Iris (403)
Apple Blossom: Lola (119 or 135)
Centers: Lola (134) or Beads *** ( Included)
Blossom Bee: Iris (059) Iridescent ribbon floss *** (Included with design)
Butterfly: Body Iris (059) Black floss ***(Included)
Wing: Iris (219) (220) or metallic fine cord.
This design is a very good practice piece for detached buttonhole stitches!

The following basic stitching directions are included as Stitch reviews: Stem Stitch, Double Stem Stitch, French Knots, Bullions, Cast-on Stitch, Detached Buttonhole Stitch, Blanket Stitch and Lazy Daisy Stitch.

The instructions assume the basic knowledge of Brazilian Embroidery or the availability of beginnerís books, such as JDR Brazilian Embroidery Book 1 by Ria Ferrell, for a refresher.
JDR 198 Cream or White $10.00 Includes Iridescent ribbon floss, black thread and beads.
♥JDR 198 Apple Blossom Time
Choose fabric color
♥Full Skein Thread Packet (7)
JDR198TP $13.30

♥FAB15x15

Add Color Backing fabric to match $2.50





---

SEARCH: type request, above, then press enter

Join Our Email Newsletter

Enter your E-mail address and first name, last name into box and press Subscribe. Newsletters will not be sent out more than once a week. There will be sales and information for subscribers only.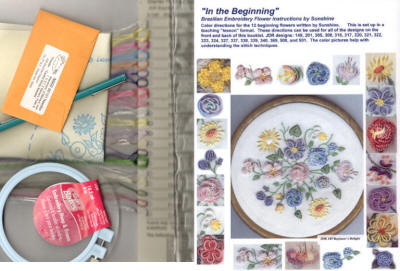 Brazilian Embroidery Starter Package $48.48 Value for $43.50