Brazilian Embroidery Design
JDR 306: Iris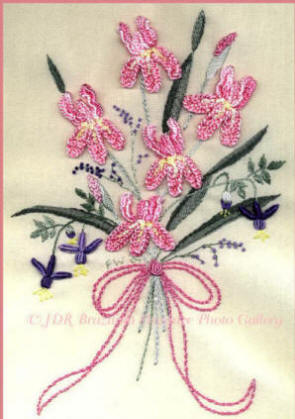 JDR 306 Iris
Intermediate Level Brazilian Embroidery Design by Jacqueline O'Reilly

Stitching Area: 5.75" x 9"
Intended Finished Size: 14" x14"
Apx. Fabric Cut Size: 17 x 17"

The following basic stitching directions are NOT included: Straight stitch, French Knots, Pistil Stitch.

There is a Refresher lesson on Stem Stitch, Cast-on Stitch, Coral knot Stitch, Bullions, Leaf Stitch, Stem Stitched Leaves, Couching Stitch, Double Cast-on Stitch and Detached Buttonhole Stitch is included.

The directions tell you how to USE the above stitches to make the flowers in the design.
♥JDR 306 Iris
Make fabric choice
♥Would you like the threads that go with this design?

Add JDR306TP $19.00 (10 skeins "pinks")


♥FAB20x20

Add Backing fabric to match $3.50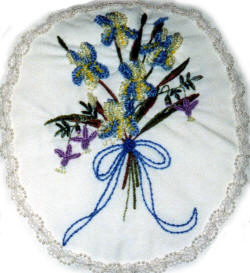 The following is the suggested thread weights for the flowers in this design:
Iris Flower: Nova two colors,
Iris weight two colors to match the Nova.
Lola center color.
Iris Flower Bud: Flower color in Lola and Lola in Green.
Fuchsia: Lola for the flower and Glory for the pistils.
Stems and Leaves: Two or more shades of Lola green.
Ribbon: Lola for Coral Knot Stitch or Ribbon.
Ribbon on Edge of Pillow: 2 Yards of 3/8 in.
---
---

SEARCH: type request, above, then press enter

Join Our Email Newsletter

Enter your E-mail address and first name, last name into box and press Subscribe. Newsletters will not be sent out more than once a week. There will be sales and information for subscribers only.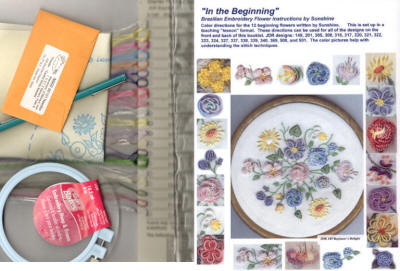 Brazilian Embroidery Starter Package $48.48 Value for $43.50