JDR 308 Advanced Pillow

JDR 308 Advanced Pillow Brazilian Embroidery pattern

Stitching Area: 13" x 13"
Intended Finished Size: 16" x16"
Apx. Fabric Cut Size: 20 x 20"
Brazilian Embroidery Design by Jaqueline O'Reilly.

The picture of this design has extra bugs shown.

For this design you can use the Book : Sunshine's Fantasy World for the Wheat, Pansy, the Tropical Bird, The Flamingo and the Cattails or you can follow the diagrams, that are included in the directions, to do them.
♥JDR 308 JDR Advanced Pillow
Make fabric choice
♥Full Skein Thread Packet

JDR308TP $43.70 (23 skeins)

♥FAB20x20

Add Backing fabric to match $3.50




Thread Requirements for the sample (please make your own selections)
Meadow Daisy: Glory 104
Rolled Rose: Glory 104
Ribbon: Iris 212
Wisteria: Iris 077
April Flower: Iris 014 , Glory 114
Tropical Bird: Glory 037, Glory 206
Flamingo: Lola 119, Lola 206
Cattail: Lola 106
Water: Glory 111
Shadow Glory 119
Pansy: Lola 078
Small Cast-On Rose: Lola 153
Snow Flower: Lola 015, Glory 109
Impatience: Iris 103
Jacqueline's Rose: Lola 078
Baby's Breath: Glory 114.
Wheat: Lola 039, Glory 069
Greens: Iris 045, Iris 121, Glory 049
---

SEARCH: type request, above, then press enter

Join Our Email Newsletter

Enter your E-mail address and first name, last name into box and press Subscribe. Newsletters will not be sent out more than once a week. There will be sales and information for subscribers only.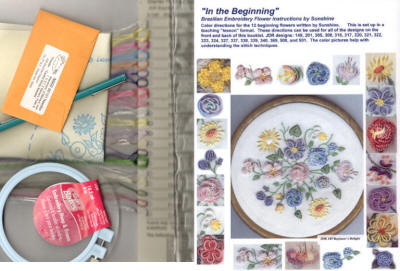 Brazilian Embroidery Starter Package $48.48 Value for $43.50