Brazilian Embroidery Brazilian
Betty's Bouquet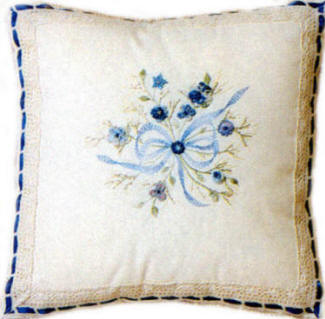 Brazilian Embroidery Brazilian Betty's Bouquet
JDR 315
14" x 14"

Brazilian Embroidery Design by Jaqueline O'Reilly

This design is special because it is made so that you are the "designer". You get to choose which flower you would most prefer to use or you can make a combination of any of the flowers.

The directions for a Bossa Nova Rose, A Cast-On Flower, A Cast-on Rose, A Japanese Violet , a Gerone Daisy and a Lazy Daisy are included. Each of these designs will turn out differently. On the print the places for the flowers and buds are marked. You choose what flower to put there.

The suggested flowers' directions are here for you to use.

There is a "review" of Bullions, Cast-ons, Pistil Stitch, Leaf Stitch, Stem Stitch & Couching included in these directions. Enjoy!

For this design you will need 3 skeins of Lola for your flowers

And 3 skeins on Lola green for the stems & leaves. The following basic stitching directions are NOT included. Straight stitch, French Knots, Satin Stitch. If you know the basic technique for these stitches you will need no other directions.

♥JDR 315 Betty's Bouquet
Choose Fabric Color
♥Full Skein (8) Thread Packet Colors Blue & yellow

Click on square to also choose JDR 315 Thread Packet $12.00.


♥FAB20x20

Click on square to also choose Backing fabric to match $3.20


---
Join Our Email Newsletter

Enter E-mail address and first name, last name into box and press Subscribe. Newsletters will not be sent out more than once a week. There will be sales and information for subscribers only.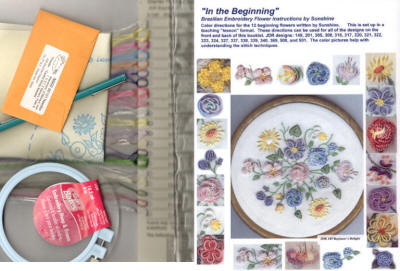 Brazilian Embroidery Starter Package $44.12 Value for $34.00