Title: Brazilian Embroidery Pattern: English Tea Pot


Brazilian Dimensional Embroidery Pattern: English Tea Pot

JDR 367

Brazilian Embroidery Design by Ruth Griffith for JDR Brazilian Elegance stitched with EdMar rayon floss.

Directions & Graphics by Sunshine.

The frilly rose on the side of the pot is very dimensional.

This design is also nice stitched in pinks, peaches or even lavenders.

Design: 5" x 7"
Fabric Cut Size: 10" x 10"

♥JDR 367 English Teapot
Pattern Number JDR 367
Screen printed design guide on Trigger Fabric
Cream Fabric
$8.00
White Fabric
$8.00
Black Fabric
$10.00
Thread Packet # of Skeins 7
$13.30
Matching Fabric 10x10
Backing (If making a pillow)
$1.50

This design and the "Frilly Rose" is a flower under the JDR Copyright.
---

SEARCH: type request, above, then press enter

Join Our Email Newsletter

Enter your E-mail address and first name, last name into box and press Subscribe. Newsletters will not be sent out more than once a week. There will be sales and information for subscribers only.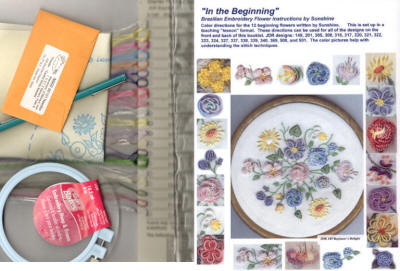 Brazilian Embroidery Starter Package $48.48 Value for $43.50