Brazilian Embroidery Pattern JDR 375 Purple Passion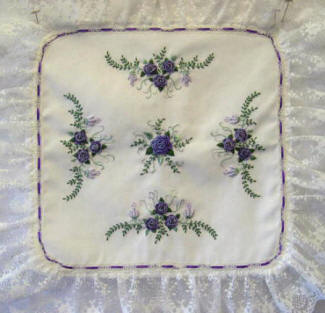 JDR 375 Purple Passion
Stitching Area: 11.75" x 11.5"
Intended Finished Size: 15" x15"
Apx. Fabric Cut Size: 20 x 20"
Intermediate Brazilian Embroidery Design
Ruth Griffith has designed another great design! Ruth was known for the Frilly Rose and has used it as the staring flower of this design for JDR-BE. Crystal beads are included.


The following Stitch reviews are provided: Stem Stitch, Alternating Satin Stitch, Long French Knots, Bullions, Cast-on Stitch, Lazy Daisy Stitch, Double Cast-on Stitch, Couching. These are meant as a review only.
If you know these techniques - you will need no other directions.
♥JDR 375 Purple Passion (Pretty in any color family)
Pattern Number JDR 375
Screen printed design guide on Trigger Fabric Includes small packet of beads.
Cream Fabric
$14.00
White Fabric
$14.00
Thread Packet # of Skeins 9
$17.10
Matching Fabric 20x20 Backing
(If making a pillow)
$3.50







Search Tags: JDR 375, JDR375, Purple Passion, Ruth Griffith, Intermediate Brazilian Embroidery Design

The following is the colors and weights of EdMar threads that were used in the sample. Please check dye lots carefully and choose your own color. Just because it is called "Purple Passion" does not mean that you canít do this designs in pinks, peaches or any other color. Crystal beads are included.

Leaves & Stems: Iris 121, 051
Fern Stems: 161 Fern Leaves :121.
Vines: Glory 051 & Small Beads.
Frilly Rose: Center Rose Nova 320
All Others Lola 320
Blue Bells: Lola 098
Pistils: Glory 098
---

SEARCH: type request, above, then press enter

Join Our Email Newsletter

Enter your E-mail address and first name, last name into box and press Subscribe. Newsletters will not be sent out more than once a week. There will be sales and information for subscribers only.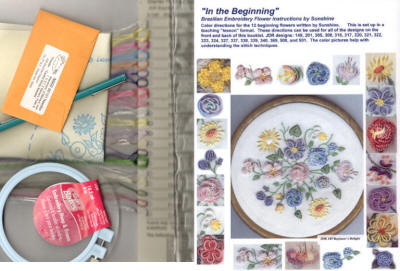 Brazilian Embroidery Starter Package $48.48 Value for $43.50