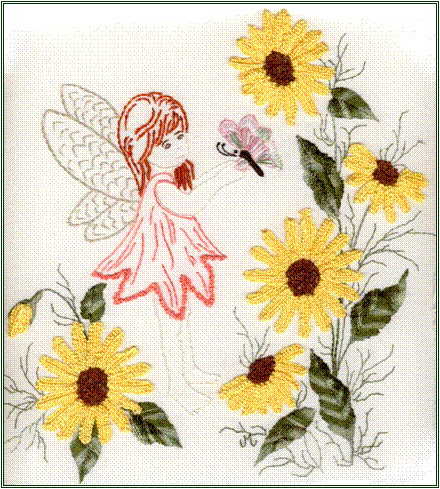 ♥ JDR 6034 Gardening Angel


Intermediate- Advanced Brazilian Embroidery design.

Original Design by Pat Swabe
Design owned by JDR-BE
Revised directions by Sunshine

Sample stitched by Maria Red Elk.

Design Print: 9 " x 9" White Fabric: 15" x 15"

The instructions assume the basic knowledge of Brazilian Embroidery or the availability of beginner's books, such as "Sunshine's Treasures, Book 1" Or Brazilian Embroidery 101, By Cheryl Sunshine Schuler for a refresher.

The following basic stitching directions are NOT included: Straight stitch, stem stitch, cast-on, bullions, blanket stitch, double cast-on, chain stitch, satin stitch.

There is a review of double cast-on stitches included.

The directions tell you how to use these stitch techniques to stitch the flowers and other design elements.


If you know the basic technique for these stitches you will need no other directions.


♥ JDR6034 Garden Angel
choose fabric color

Add JDR6034TP Thread Packet (11 SKEINS)
Full Skein Thread Packet $20.90 (thread list below)





Suggested EdMar Threads Dress & Bow: Iris 139 Features: Glory 407, Face: Glory 130, Mouth: Glory 115 Hair: Boucle 407 – skeins; Glory & Nova 407. Greenery: Iris 040, Iris 024, Iris 403, 095 Wrought Iron Plant Stand & Chain 002 or 088 Netting: Iris 126 Gypsy Bud: Iris 069, Iris 115 Wild Rose: Iris 054 Iris 108 Wild Morning Glory: Iris 208 & Glory 107, Lola 116 & Iris 116 Hybrid Shasta Daisy: Lola 013, Iris 116 Double Peony: Lola 111, Iris 170. Center: Iris 069 San Diego Poinsettia: Lola 157 & 221 Center: Iris 015 Posies: Iris 015, Iris 115. Center: Iris 108
EdMar Thread Requirements for the sample. Please feel free to make your own selections.
Lola 128
Glory 123 (just a little for the eyes)
Iris 155
Lola 203 – 2 skeins
Glory 206
Glory 210
Boucle 210
Lola 327
Iris 410
Glory 410
---

SEARCH: type request, above, then press enter

Join Our Email Newsletter

Enter your E-mail address and first name, last name into box and press Subscribe. Newsletters will not be sent out more than once a week. There will be sales and information for subscribers only.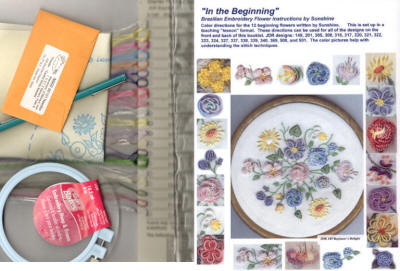 Brazilian Embroidery Starter Package $48.48 Value for $43.50