Brazilian Embroidery Design JDR 6062 Butterfly Watcher
JDR 6062 Butterfly Watcher by Dexie Smith Available Now!


Design Size: 7" x 10.5"
Intended Finished Size: Apx. 12"x 15"
Fabric Cut Size: 16" x 20"


Design Screen printed on cream or white fabric

Original Design By Dexie Smith. Directions and graphics by Sunshine.
The directions assume you have the basic knowledge of the following stitches.
Stitches used in this design: Straight stitch, stem stitch, satin stitch, French knots, bullions, detached buttonhole.

♥This design package includes screen printed design on Trigger fabric (water soluble ink), directions, color picture and thread list.

JDR 6062 Butterfly Watcher
choose fabric color

Add JDR 6062TP $24.70
(13 full skeins of EdMar threads) colors listed below


Suggested Threads
Greens: Iris & Lola 121
Butterfly: Copper DMC or Glory 129; Multicolored DMC or Glory 071
Woodland Daisy: Iris 203, Lola & Iris 009.
Body: Iris 407 Fairy: Hair: Iris 407
Hair Bow: Iris 009 Skin: Glory 126
Fairy antlers: DMC Gold.
Lips: Pink. Regular thread or glory can be used.
Scarf: Iris 221. Dress: Iris 220, 221
Slippers multicolored DMC or Glory 071.
Fairy Wings: Gold DMC or Glory 129, multicolored DMC or Glory 071, invisible thread.
Fairy's Woodland Daisy: Lola 203 (Iris can be used), Iris 220. Iris 009, Lola 009.
---

SEARCH: type request, above, then press enter

Join Our Email Newsletter

Enter your E-mail address and first name, last name into box and press Subscribe. Newsletters will not be sent out more than once a week. There will be sales and information for subscribers only.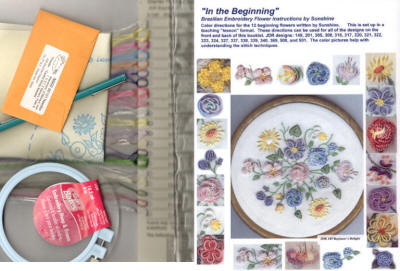 Brazilian Embroidery Starter Package $48.48 Value for $43.50