The New And Exciting Brazilian Dimensional Embroidery Design
Anita's Wood Orchid Pattern
JDR 6128 Anita's Wood Orchid
Stitching Area: 5.5" x 5.5
Registration Marks: 8" x 8"
Fabric: 12" x 12
A Quilt Block can be cut perfectly from the 8" square up to the 12" fabric cut size.

Original Design Stitched for JDR-BE by Dexie Smith. Directions & Graphics by Sunshine

An intermediate – advanced level Brazilian Embroidery design.

Stitches used in this design: Stitches used in this design: Stem stitch, straight stitch, French knot, alternating satin stitch, satin, cast-on drizzle, double cast-on over needles.

There are complete instructions for the alternating satin stitch, cast-on drizzle and the double cast-on stitch over spacer needles.

The directions assume you have the basic knowledge of the following stitches: stem stitch, straight stitch, French knot and satin stitches.

Colors & weights of EdMar threads that were used in the sample:
Iris: 050, 065, 116, 163, 311
Lola: 167
Glory: 040, 049, 070, 168, 221

♥ Cream Fabric
$9.00 How Many?

♥ White Fabric
$9.00 How Many?

♥ Full skein thread packet
JDR6128 (11) $20.90 How Many?
(EdMar threads)

♥FAB15x15

Add Backing fabric to match $2.50




---

SEARCH: type request, above, then press enter

Join Our Email Newsletter

Enter your E-mail address and first name, last name into box and press Subscribe. Newsletters will not be sent out more than once a week. There will be sales and information for subscribers only.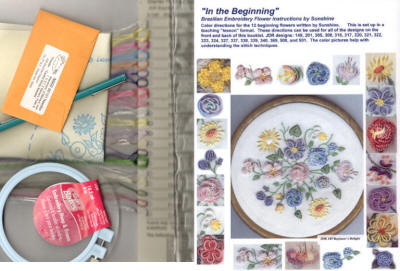 Brazilian Embroidery Starter Package $48.48 Value for $43.50