Brazilian Embroidery design: A Step In Time JDR6209


Brazilian Dimensional Embroidery design
Available NOW!

Stitching Area: 6.5" x 13"
Registration: 11" x 17"
Fabric: 15" x 20"
Original Design by Kathy Hammer.
Directions and graphics by Sunshine.
Straight stitch, stem stitch, satin stitch, chain stitch, lazy daisy, cast-on, bullions, blanket stitch, detached buttonhole, short and long straight stitching.
The directions tell you how to use these stitch techniques to stitch the flowers and other design elements.

A review of detached buttonhole and drizzle stitches are included.

♥This design package includes screen printed design on Trigger fabric (water soluble ink), directions, color picture and thread list.

♥ JDR6209 A Step In Time



Choose fabric color
♥Full Skein EdMar Thread Packet

Add JDR 6209TP $55.10 (29 skeins)
(EdMar Threads)


♥FAB20x20

Add Backing fabric to match $3.50



The following EdMar colors were used in the sample – but please feel free to choose your own colors!

Glory 000, 095, 146, 168, 206 Iris: 146, 201

Lola 059, 201 Cire 123, Beads: MH 0358, 40479

For the Flowers – Only about one strand is needed for each flower, so get to your stash and find what you can use or the following were the colors used in the sample: Iris 013, 014, 016, 017, 028, 054, 062, 118, 119, 125,134, 135 Glory: 013, 014, 017, 062, 118, 119, 134, 146.






---

SEARCH: type request, above, then press enter

Join Our Email Newsletter

Enter your E-mail address and first name, last name into box and press Subscribe. Newsletters will not be sent out more than once a week. There will be sales and information for subscribers only.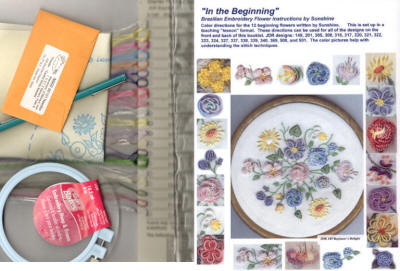 Brazilian Embroidery Starter Package $48.48 Value for $43.50