Brazilian Embroidery Design Cotton Candy Wishes!
JDR 6212 Cotton Candy Wishes

By Sunshine
A wedding cake, an engagement cake, an anniversary cake or a special birthday cake. Any of these occasions or "just because" are reasons enough to stitch this beautiful cake!

An Advanced beginner - Intermediate Brazilian Embroidery design that all stitchers would enjoy doing!
Stitching this to celebrate any special occasion will be a joy!
8" X 11" stitching area
Suggested Mat opening size: 11" x 17".
Fabric: 15" x 20"
The directions assume you have the basic knowledge of these stitch techniques: Bullions, stem stitch, cast-on, chain stitch, alternating satin stitch and one way detached buttonhole stitching.

Suggested Colors: Colors and weights of EdMar threads used in the sample.
Flowers: Lola 2 skeins of 000 white;
Three strands of each of the following: Lola 003, 005, 018, 021, 028, 031, 034, 054, 063, 091, 092, 096, 111
Leaves: Iris 095 x 2 Skeins
Lines: Iris 000 & YLI Candlelight Rainbow Metallic Yarn
Mill Hill Beads: 1 pkg. #40161 Petite Crystal Glass Beads (Substitute: #60161 Crystal Frosted Glass Beads.)
Please feel free to choose your own colors! See Sunshine's note below
Needles Used: #1 Milliner – Lola #5 Milliner –Iris #7 Milliner - Glory

♥This design package includes screen printed design on Trigger fabric (water soluble ink), directions, color picture and thread list.
♥ JDR 6212 Cotton Candy Wishes



Choose Fabric Print and directions
♥ Full Skein Thread Packet

Add JDR 6212TP 18 full skeins $34.20
(EdMar threads)


♥ YLI Candlelight Rainbow

$6.50




♥ Mill Hill Petite Crystal Glass 40161

$1.30


OR


♥Mill Hill Crystal Frosted Glass 60161

$1.30


Sunshine's Note: If you are planning on choosing your own colors you will need 1 skein Lola for the cast-on stitches behind the Bossa nova roses.
Each Bossa Nova rose takes about 3 strands of Lola thread.
(One skein of Lola will give you about 19 strands)
32 Roses - I recommend at least 5 colors - 1 skein each Or a total of 6 skeins Lola for the roses. That does not include the frilly part of the roses - you will need that extra skein of Lola.
You will need 2 skeins Iris for the leaves.
One skein of Iris for the cake lines.
You can use any metallic thread to replace the Candlelight. I just like it's softness, sparkle and ease of stitching.
Choosing beads is the fun - any small bead the color that will match your thread colors.
---

SEARCH: type request, above, then press enter

Join Our Email Newsletter

Enter your E-mail address and first name, last name into box and press Subscribe. Newsletters will not be sent out more than once a week. There will be sales and information for subscribers only.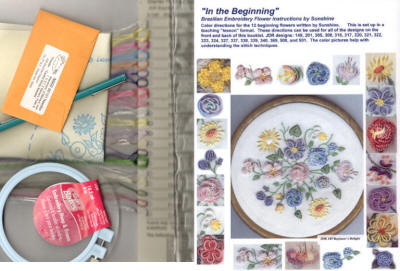 Brazilian Embroidery Starter Package $48.48 Value for $43.50