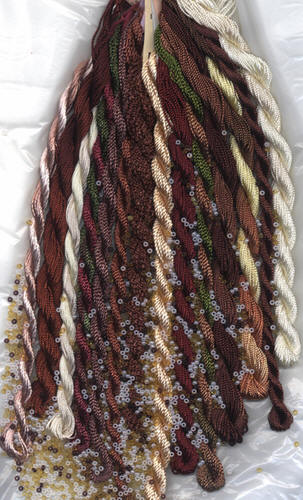 EdMar Thread Packet Special - #26 "Brownies"
EdMar rayon threads that are collected in remembrance of brownies and more brownies! Blonde Brownies, Double Chocolate brownies, Butterscotch Brownies, Brownies with yummy Butter cream frosting and sprinkles.

This thread packets are great for the beginning stitcher who needs a little help in deciding what colors put together and also to give the stitcher some of every weight available.



Each EdMar Thread Sampler Contains:
5 Lola Skeins 4 Iris Skeins
1 Nova 1 Boucle` 1 Cire`
1 Frost
1 Glory
1 Package of Japanese Seed Beads
All the sampler packets are color coordinated and include beads.


TP-26 "Brownies"

EdMar Threads in Shades of Deep dark browns, Cocoa, milk chocolate, butterscotch, Butter Cream and Tuscany. A small bit of green is added with variegated green and brown.



$26
Colors may slightly vary depending on dye lot and availability

EdMar Thread EdMar Floss Thread packets Rayon thread Rayon Floss Brazilian Embroidery Thread EdMar Company Threads Rayon Embroidery Floss





Thread packets!



Thread Packet TP32 "Jordan's Favorites"



Thread Packet "Mint Julep" TP 29



"Strawberry Shortcake" TP 30

More Gorgeous Thread Packets



SEARCH

Join Our Email Newsletter

Enter E-mail address and first name, last name into box and press Subscribe. Newsletters will not be sent out more than once a week. There will be sales and information for subscribers only.