♥Table of Contents



Brazilian Embroidery Patterns and Kits


♥ JDR Brazilian Embroidery Designs
♥Hearts and Flowers Designs
♥Quilt Sampler Designs
♥Brazilian Embroidery Learning Kits
♥Starter Package
♥Sunshine's Treasures
♥Brazilian Embroidery Guest Designers
♥Christmas Designs
♥Quilt Blocks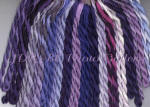 ♥Threads and Ribbons
♥EdMar Threads
♥Thread Packets
♥Kreinik
♥Japan Threads
♥YLI Candlelight
♥YLI Silk Ribbon
♥Newest Notions
♥Brazilian Embroidery Supplies
Thread organizers, apples for the EdMar design, color charts, needle packs, needle grabbers, Color Ring.
♥Tools and Gadgets
♥Tool and Needle Keepers
♥More notions and supplies
♥ Glues, Sprays and Cleaners
♥Thread Organizers
♥ Embroidery Needles
♥Needle Size Charts
♥Marking Pens and Pencils
♥Needle Threaders
♥Cases and Totes
♥Tote-A-Long Bags
♥Hoops
♥Even More Hoops
♥Scissors
♥More Scissors
♥Fabric
♥Magnifiers and Lights
♥Pin Cushions
♥ Beading Accessories
♥Punchneedle Supplies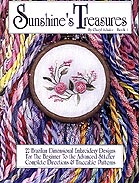 ♥Books and Videos
♥Paper Embroidery
♥Stumpwork
♥Beads and Baubles




Daylight Company Magnifiers & Lights
---
Fully adjustable 18" Arm.
Ideal for keeping your pattern in a fixed position so your hands are free for stitching.
Clip the Double Flexi-Clamp anywhere - on a table, embroidery frame, lamp.
Fully adjustable 18" arm provides total flexibility.
Strong spring clamp on both ends opens to 2.4" allowing easy attachment onto most surfaces.
you can use them for stitching, computer work, cooking, many hobbies and anytime you need both hands free!



---
Clips securely on hoops, frames, tables, etc.
Rimless lens is 3.5 inches in diameter with 2.25 magnification (5 diopter) with a 3/4" spot magnifier (4x).
A wonderful value! See the other fun colors in this same product below (N6809G, N6809L, N6809O). Please note this is a magnifier only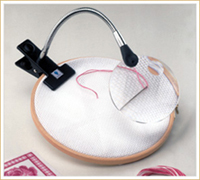 Small Flexilens Ideal for clipping onto the Stitch ezi Frame. Rimless lens gives a comfortable uninterrupted view, ideal for embroidery and cross-stitch.


---





Daylight Flexilens on Clamp
Daylight magnifier on an 18" long flexible arm

Has large rimless lens which provides an uninterrupted view between chart and needlework. Can be clamped onto embroidery frames, table tops and other solid objects. 5" diameter, 1.75x (3 diopter) quality acrylic lens


---
Extra 11 watt spiral bulb
(for 6807 and 6807A lamps) 11 watt spiral bulb for brass Daylight Floor Lamp (#6807) and black Daylight Floor Lamp (N6807A). Low heat, uses low energy and simulates true daylight.



---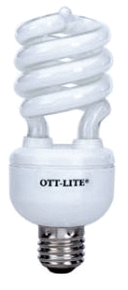 Extra 20 watt spiral bulb (for N6808 and N6805 lamps)

N6808B $25.00














---

Daylight Compact Lamp - Satin Silver


Compact daylight simulation lamp with handle is perfect for your table, for traveling, for retreats or for classes. Bright 13 watt low energy daylight tube provides perfect color matching, reduced glare and eases eye strain. Adjustable shade gives high quality daylight simulation wherever it is needed. Lightweight and compact, it folds neatly together, making it conveniently portable. Designed for table top use or wall mounting.


Plug-in lamp includes 13 watt Daylight tube (75 watt equivalent), long cord, and is lightweight and compact. Folds to make it conveniently portable and easy to store.
Please note that this item uses 120v AC only.


Uses extra bulb N6811B.
---

13 watt Bulb for Daylight Compact Lamp

Extra bulb for N6814K, N6814S andN6816 lamps.
13 watt low energy daylight tube provides perfect color matching, reduced glare and eases eye strain
How many?
---
---

Daylight Compact Lamp Carry Bag
Practical and affordable bag for your N6811 Compact Lamp by Daylight. Simply fold up your lamp, place it in the bag and you are ready to go to class, on vacation, or to your needlework meeting! Fully padded to protect your lamp plus a secure strap for easy carrying
---
---



---

View Cart
Sunshine's Newest Book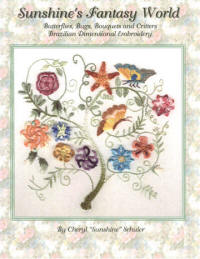 Best Sellers

♥ Thread Organizer
♥ Thread Packets
♥ Marking Pen


Information

♥Thread Inventory Sheets
♥ Thread Order Blank
♥ Needle Size Charts
♥ Thread VS Needle Size
♥What do I need to begin?
♥Opening A Skein
♥Straightening Your Threads
♥Storing Your Threads
♥Technique "Levels
♥Knotting The Thread
♥Correct use of Hoop
♥ Gift Certificates
♥ Contact Us
♥ Printable Catalog and Price sheets

♥ Teachers Information
♥ Wholesale Information
♥Resources/links

Where is JDR Brazilian Elegance?
A Little about Sunshine



Visit our totally Dimensional Embroidery site.





JDR Brazilian Elegance Specializing in Brazilian Dimensional Embroidery but providing stitchers with much more!
Striving to keep you Wrapped In Stitches!
P.O. 37, Hunter, ND 58048-0037 USA
© 1999-2015 All Rights Reserved


All JDR patterns & designs are copyrighted for JDR Brazilian Elegance. The designs presented for any other designer on our web site are also copyrighted by the individual designer. No part of this material/website may be reproduced in any form, in whole or in part, by any means-mechanical, electronic, graphic, downloading, photocopying, photographing, tracing or means yet to be discovered without written permission.
Prices are subject to change with out notice