♥Table of Contents



Brazilian Embroidery Patterns and Kits


♥ JDR Brazilian Embroidery Designs
♥Hearts and Flowers Designs
♥Quilt Sampler Designs
♥Brazilian Embroidery Learning Kits
♥Starter Package
♥Sunshine's Treasures
♥Brazilian Embroidery Guest Designers
♥Christmas Designs
♥Quilt Blocks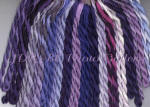 ♥Threads and Ribbons
♥EdMar Threads
♥Thread Packets
♥Kreinik
♥Japan Threads
♥YLI Candlelight
♥YLI Silk Ribbon
♥Newest Notions
♥Brazilian Embroidery Supplies
Thread organizers, apples for the EdMar design, color charts, needle packs, needle grabbers, Color Ring.
♥Tools and Gadgets
♥Tool and Needle Keepers
♥More notions and supplies
♥ Glues, Sprays and Cleaners
♥Thread Organizers
♥ Embroidery Needles
♥Needle Size Charts
♥Marking Pens and Pencils
♥Needle Threaders
♥Cases and Totes
♥Tote-A-Long Bags
♥Hoops
♥Even More Hoops
♥Scissors
♥More Scissors
♥Fabric
♥Magnifiers and Lights
♥Pin Cushions
♥ Beading Accessories
♥Punchneedle Supplies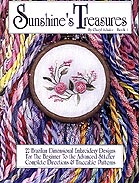 ♥Books and Videos
♥Paper Embroidery
♥Stumpwork
♥Beads and Baubles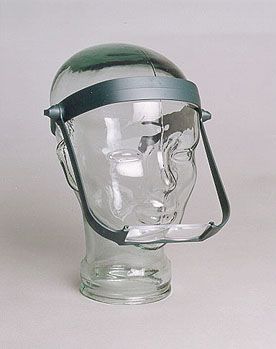 MagEye Original
(Includes model #2 & Model #4 lens)
(+1.6 low magnifier & 2.0 Medium magnifier)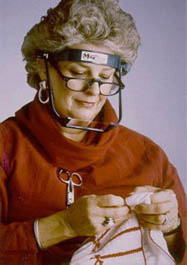 Mageye 6902 $36.99

This hands-free, head-mounted magnifier is perfect for needlework! Optical quality acrylic lenses reduce eye strain. Slip-on cushioned headband fits all and works with or without prescription glasses. (You can leave your glasses on) Visor swings out of the way when not in use. Lightweight and easy for travel.

Quilting, embroidery, hand beading, manicures/pedicures, woodcarving, lace making, painting, knitting...for any close work. Jewelry makers and miniature train hobbyist love these magnifiers!
Very Light Weight (1.75 oz.)
Travels Well
Visor swings out of way when not height="1" width="1"
Optical Quality Acrylic Lens - Dual lenses have no distortion.
Greater power available by simply slipping out #2 lens and replacing with #4 lens!
A slip on cushioned head band fits all head sizes!
Adjust focus and enlargement by moving the object you are viewing closer to or farther away from the lenses.
Brings your work closer into focus than regular magnifying glasses.
Instantly enlarges images and objects
Hands-free magnification
Can be worn with or without eyeglasses or contact lenses
Optical grade acrylic lenses
Double lens for 3-D viewing
Cushioned headband
Fits all head sizes
Moves with line of focus
Distortion-free viewing
Wide field of vision
Adjustable lens angle
Feather-lite, only 50 grams (1.75 oz)
Brings work closer into focus than regular magnifying glasses
Adjustable magnifier-visor swings up and down, or can be locked in place
Modern, open design assures unimpaired vision
Comfortable, cool, no headaches
Slip-on cushioned headband-fits all sizes
Snap-out interchangeable lenses.
The quality of the MagEyes lens easily distinguishes it from others. The costly precision-controlled manufacturing process produces clear optic-grade acrylic dual-lenses, free of distortion or irregularities.
Mageye 6902H
Double HIGH (INCLUDES #5 & #7) $45.99
---
Lens #2 = 1.6x working distance approximately 12"-14"
Lens #4 = 2.0x working distance approximately 10"-12"
Lens #5 = 2.25x working distance approximately 7"-10"
Lens #7 = 2.75x working distance approximately 4"-7"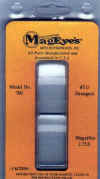 The following are Lenses only
N6902A Mageye Lens #5 (2.25x)
$17.99 how many?


N6902B Magey Lens #7 (2.75x) $17.99



---

View Cart
Sunshine's Newest Book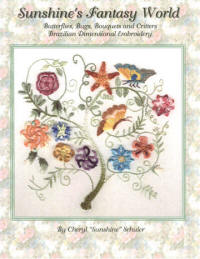 Best Sellers

♥ Thread Organizer
♥ Thread Packets
♥ Marking Pen


Information

♥Thread Inventory Sheets
♥ Thread Order Blank
♥ Needle Size Charts
♥ Thread VS Needle Size
♥What do I need to begin?
♥Opening A Skein
♥Straightening Your Threads
♥Storing Your Threads
♥Technique "Levels
♥Knotting The Thread
♥Correct use of Hoop
♥ Gift Certificates
♥ Contact Us
♥ Printable Catalog and Price sheets

♥ Teachers Information
♥ Wholesale Information
♥Resources/links

Where is JDR Brazilian Elegance?
A Little about Sunshine



Visit our totally Dimensional Embroidery site.





JDR Brazilian Elegance Specializing in Brazilian Dimensional Embroidery but providing stitchers with much more!
Striving to keep you Wrapped In Stitches!
P.O. 37, Hunter, ND 58048-0037 USA
© 1999-2015 All Rights Reserved


All JDR patterns & designs are copyrighted for JDR Brazilian Elegance. The designs presented for any other designer on our web site are also copyrighted by the individual designer. No part of this material/website may be reproduced in any form, in whole or in part, by any means-mechanical, electronic, graphic, downloading, photocopying, photographing, tracing or means yet to be discovered without written permission.
Prices are subject to change with out notice