JDR 127 Humming Bird Brazilian Embroidery Pattern
JDR 127 Humming Bird
Stitching Area: 6" x 6.75"
Intended Finished Size: 8" x10"
Apx. Fabric Cut Size: 11 x 13"


Intermediate Brazilian Hand Embroidery Design by Ruth Griffith
EdMar Thread Suggestions : These are only suggestions - dye lots may be different.
Dogwood: Glory 004, Glory 141
Large Bud: Lola 141, Glory 121
Ruth's Rose Bud: Glory 142, Iris 142, Glory 069
Primrose: Glory 143 Glory 141
Stitch techniques used to create this design:
Straight stitch, French Knots, Bullions, Cast-on Stitch, Detached Buttonhole, Blanket Stitch, Satin Stitch.
If you know the basic technique for these stitches you will need no other directions.
♥ JDR 127 Humming Bird
Pattern Number JDR 127
Screen printed design guide on Trigger Fabric
Cream Fabric
$8.00
White Fabric
$8.00
Thread Packet # of Skeins 17
$25.30
Matching Fabric 15 x 15 Backing
(If making a pillow)
$2.50
---

SEARCH: type request, above, then press enter

Join Our Email Newsletter

Enter your E-mail address and first name, last name into box and press Subscribe. Newsletters will not be sent out more than once a week. There will be sales and information for subscribers only.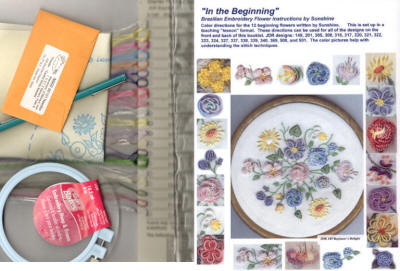 Brazilian Embroidery Starter Package $48.48 Value for $43.50