Title: Brazilian Embroidery Pattern
JDR 128 Zella's Daffodils
JDR 128 Zella's Daffodils
Advanced Brazilian Embroidery Design

Stitching Area: 4.5" x 7.25"
Intended Finished Size: 8" x10"
Apx. Fabric Cut Size: 12 x 14"

You will need the basic knowledge of the following stitches to do this design:
Multiple Rows of Detached Buttonhole, Blanket Stitch, Drizzle Stitch, Reversed Ribbon Stitch. Satin Stitch.
The above stitches can be found in the book "Brazilian Embroidery Instructions" by Barbara Demke Johnson or "Brazilian Embroidery 101" by Cheryl Sunshine Schuler
The sample was stitched with the following EdMar Rayon floss:
Daffodils: Iris and Lola 008 Center: Glory 065
Leaves: Iris 045
♥ JDR 128 Zella's Daffodil
Pattern Number JDR 128
Screen printed design guide on Trigger Fabric
Cream Fabric
$7.00
White Fabric
$7.00
Thread Packet # of Skeins 5
$8.00
Matching Fabric 15 x 15 Backing
(If making a pillow)
$2.50
I am looking for someone to send pictures of this completed design or who would be willing to re-stitch this design for us. We really do need a new picture of these Daffodils!
---

SEARCH: type request, above, then press enter

Join Our Email Newsletter

Enter your E-mail address and first name, last name into box and press Subscribe. Newsletters will not be sent out more than once a week. There will be sales and information for subscribers only.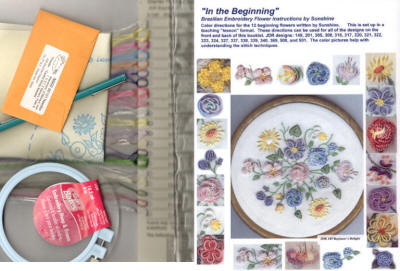 Brazilian Embroidery Starter Package $48.48 Value for $43.50