JDR 173 Brazilian Dimensional Embroidery Design: 5 Golden Rings
5 Golden Rings
Stitching Area: 8" x 8"
Intended Finished Size: 12" x 12"
Apx. Fabric Cut Size: x " 15 in. x 15 in.

Interlocking Rings with wonderful dimensional flowers!
This Brazilian Embroidery pattern includes fabric print, sport weight yarn (for padding), Beads, BE 101 Stitch Instructions (Condensed). The directions for completing the Flowers are included
This design is considered an Intermediate level for stitchers that have completed some Brazilian Embroidery stitching before.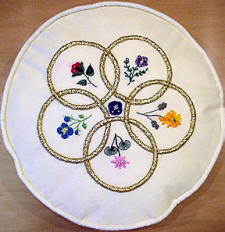 Stitches Used in this design and should be familiar with:
Leaf stitch, Double Stem Stitch, Couching, Back Stitch, Pistil Stitches, Lazy Daisy stitches, Blanket stitch, Cast-on Stitches, Drizzles, Double Cast-on Stitches, Bullion, Detached Buttonhole Stitches, Double Cast-on Drizzle Stitches, Satin Stitch over yarn

♥JDR 173 5 Golden Rings

Choose fabric color

♥Add Full Skein Thread Packet
Add JDR 173 TP $24.70 (13 skeins)

Does Not include Gold Thread for Rings
♥FAB15x15
Add Backing fabric to match $2.50



Flowers, colors and weights of threads used in this design:
Lotus: Lola – 205 or 172 , Glory 134.
Greenery: Leaves – Iris 040.
Japanese Violet: Outer petals - Lola 117, Inner petals- Frost 125; (Two purples to match)
Leaves - Iris 148, Center - Bead.
Oriental Mum: Lola 106, Leaves - Iris 167,Center - Bead
Water Lily: Lola - 218, Leaves - Iris 040
Peach Blossom: Lola 139, Center - Glory 134, Leaves - Iris 217
Cast-on Flower: Lola 117, Center - Pearl
Gold metallic ribbon floss or Embroidery thread of your choice.
Sport weight yarn for padding ***yarn included with design.

---

SEARCH: type request, above, then press enter

Join Our Email Newsletter

Enter your E-mail address and first name, last name into box and press Subscribe. Newsletters will not be sent out more than once a week. There will be sales and information for subscribers only.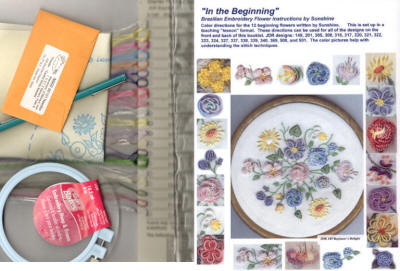 Brazilian Embroidery Starter Package $48.48 Value for $43.50