Brazilian Embroidery Pattern
Blue Christmas JDR 6045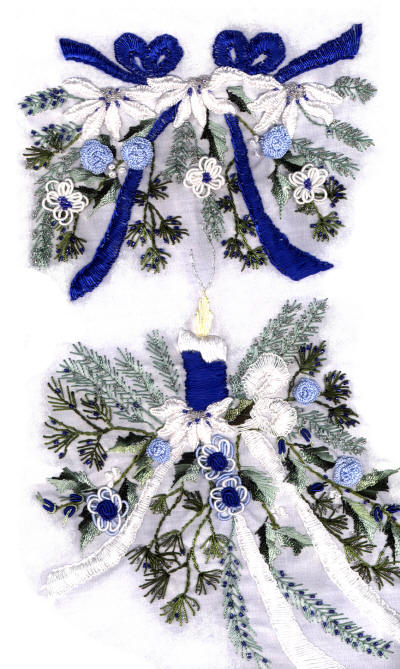 JDR 6045 "Blue Christmas"
Intermediate – Advanced Brazilian Embroidery design.
This design is meant to be a "Old World Charm" type of design. Each of the designs in this series is meant to be received in that way.
Poinsettias, ribbons, candles and lots of holiday greenery make a beautiful back drop for more dimensional embroidery flowers. Although this is shown as a stocking – the design works as a picture or a pillow.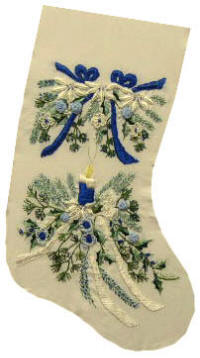 This Brazilian Dimensional design is a beautiful picture for a holiday decoration but it is pretty for a wall picture year-round.
Add beads for and metallic threads for more sparkle.
Includes screen printed pattern and directions.
Design Size: 12" x 19"
Fabric Cut Size: 18" x 24"
Original Design By Dexie Smith. Directions and graphics by Sunshine.
The following basic stitching directions are not included: Straight stitch, stem stitch, satin stitch, cast-on, bullions, blanket stitch, double cast-on stitches with needles as spacers.
There is a review of double cast-on stitches included.
The directions tell you how to use these stitch techniques to stitch the flowers and other design elements.
If you know the basic technique for these stitches you will need no other directions
The instructions assume the basic knowledge of Brazilian Embroidery or the availability of beginner's books, such as "Sunshine's Treasures, Book 1" Or Brazilian Embroidery 101, By Cheryl Sunshine Schuler for a refresher.
♥ JDR 6045 Blue Christmas
Click on fabric color choice

Add JDR 6045TP $20.90 (11 Skeins) (Color numbers below

You may edit your order before you check out





Suggested EdMar "Z" twist Thread
White 000 – Cire'; Lola x 2 skeins, Nova, Iris
Blue 201- 1 Cire, 1 Lola (or two skeins Lola)
Light blue 112 Lola
Light Yellow: 134 Iris
Greens: Iris 024, 051, 079, 080
---

SEARCH: type request, above, then press enter

Join Our Email Newsletter

Enter your E-mail address and first name, last name into box and press Subscribe. Newsletters will not be sent out more than once a week. There will be sales and information for subscribers only.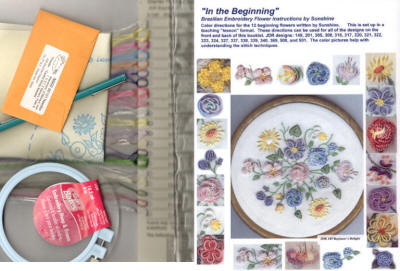 Brazilian Embroidery Starter Package $48.48 Value for $43.50