Brazilian Embroidery Christmas "Freedom" Stocking JDR 6046


This design is meant to be a "Old World Charm" type of design. Each of the designs in this series is meant to be received in that way.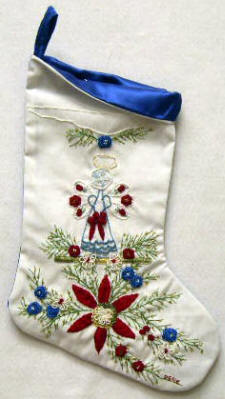 JDR 6046 "Freedom"
Intermediate – Advanced Brazilian Embroidery design.
Dexie originally designed this dimensional embroidered piece right after the troops were deployed. This was to serve as a reminder of blessing of the Freedom that we have. The heavens and the angels watch over us and our troops. The red, white and blue of this design are patriotic colors.
You can stitch this Brazilian dimensional embroidery design in any color you would like- to create a theme that you enjoy.
Special treatment in needed in laundering this design when the stitching is completed The bright EdMar colors that are used need extra care. See the Sunshine's laundering instructions for a guide to the easy care.
Design Size: 12" x 19" Fabric Cut Size: 18" x 24"
Original Design by Dexie Smith. Directions and graphics by Sunshine
Although this is shown as a stocking – the design works as a picture or a pillow.
The following basic stitching directions are not included: Straight stitch, stem stitch, cast-on, bullions, blanket stitch, detached buttonhole, double cast-on stitches with needles as spacers.
There is a review of double cast-on stitches included.
The directions tell you how to use these stitch techniques to stitch the flowers and other design elements.
If you know the basic technique for these stitches you will need no other directions.
The instructions assume the basic knowledge of Brazilian Embroidery or the availability of beginner's books, such as "Sunshine's Treasures, Book 1" Or Brazilian Embroidery 101, By Cheryl Sunshine Schuler for a refresher.
♥JDR 6046 Freedom" Stocking
Choose fabric color



Add JDR 6046TP 12 skeins $22.80 Thread Packet
color numbers below
You may edit your order before you check out


Suggested EdMar "Z" twist Thread
Jeanne's Wild Rose: Iris 205 + gold Beads
Rolled Roses: Iris 205
Desert Rose: Lola 152 (2 skeins); Cire'317; Lola 000
Blue Flowers: Cire 103
Japanese Violet: Lola 000, 152
Angel: Blue Cire' 100 &147, Iris 146. Pearls, 3.5 meters Sadi Smooth or Kreinik
Greenery: Lola 167
Dexie's Bow: Lola 205
Invisible thread
---

SEARCH: type request, above, then press enter

Join Our Email Newsletter

Enter your E-mail address and first name, last name into box and press Subscribe. Newsletters will not be sent out more than once a week. There will be sales and information for subscribers only.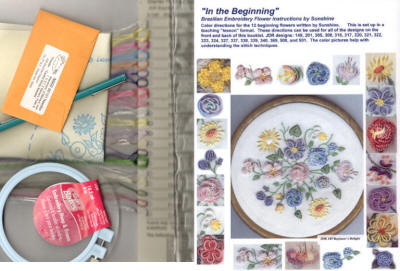 Brazilian Embroidery Starter Package $48.48 Value for $43.50