These Brazilian Dimensional Embroidery Embroidery patterns and kits by JDR Brazilian Elegance can be your creation using EdMar rayon thread to create 3 dimensional raised designs. These Brazilian embroidery patterns can be used to make framed pictures, pillows, linens and to embellish clothing and much more!
---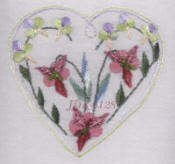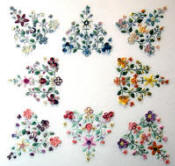 Click on the picture for more information


---

JDR 390 Welcome Vertical
Cream or White Fabric. 26 pages of directions! 3 whole punched for putting in your stitching notebook. Beginners Brazilian Embroidery Design
Cut Size: 10 x 36 Click on the picture for more information
---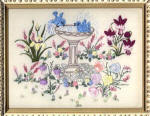 JDR 6023 Bird Bath

Fabric Size 15"x 15"

Click on the picture for more details

---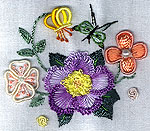 JDR 6501 Sampler #1
Block Size: 7" x 7" (Registration Marks) Fabric Size: 10" x 10"
7 pages of Directions
Click on the picture for more information
---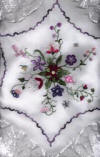 JDR 373 Reece's Whimsey

Fabric : 20" x 20"
Intermediate -Advanced 16 pages of complete directions in a booklet form!
Original Design by Ruth Griffith Click on the picture or the title of the design to see the Design and Details

---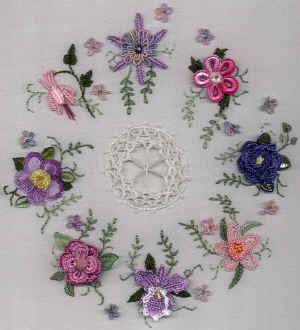 JDR 191 Ruth's Flower Shop Wreath
Click here for more information
Original Design purchased from Ruth Griffith with copyrights by JDR-BE.

JDR 191 Cream Or White Fabric
JDR 191 Black Fabric
---

JDR 146 Welcome
JDR 390 Vertical Welcome
---
---
SEARCH (list then press enter)

Join Our Email Newsletter

Enter your E-mail address and first name, last name into box and press Subscribe. Newsletters will not be sent out more than once a week. There will be sales and information for subscribers only.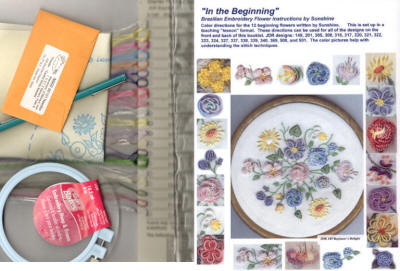 Brazilian Embroidery Starter Package $48.48 Value for $43.50