Brazilian Dimensional Embroidery Pattern:

"Sunshine's Fantasy Tree"
JDR 309 New Design package!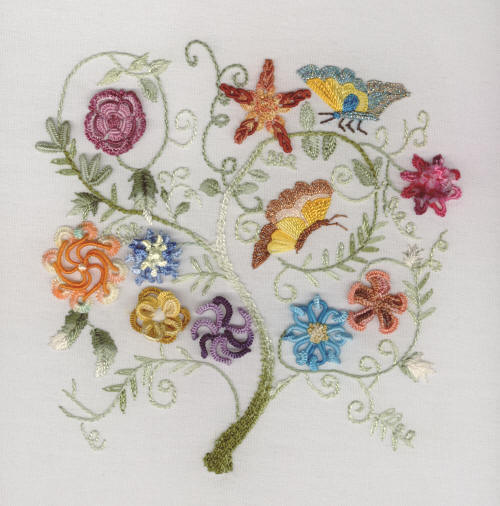 Brazilian Embroidery Design: Fantasy Tree
Intermediate Brazilian Embroidery Design
Stitching Area: 6.5" x 7.5" Intended Finished Size: 10" x10"
Apx. Fabric Cut Size: 15 x 15"
This is the design that is featured on the cover of Sunshine's Fantasy World.
♥This design package includes screen printed design on Trigger fabric (water soluble ink), directions, color picture and thread list. I have also listed them at the bottom of this page.

♥JDR 309 Sunshine's Fantasy Tree

Click on one above to Choose fabric color THEN PRESS ADD
Please have Sunshine Sign my book

To add the following click on each of the empty boxes (to add) and go to the next "Add my choices"

♥Full Skein Thread Packet Value:

JDR309TP $40.50 Retail Value (21 skeins of EdMar Rayon Thread) Includes substitutes for the Kreinik threads. .

Add the Optional ♥Kreinik #4 Fine $3.15
| | |
| --- | --- |
| Kreinik 044 #4 | Kreinik 041 #4 F |
| Kreinik 021 #4 | Kreinik 027 #4 |
| Kreinik 032 #4 | Kreinik 031 #4 |

Add BK-S134 Book Only $29.95
Please have Sunshine Sign my book

♥FAB15x15
Add Backing fabric to match JDR 309 $1.80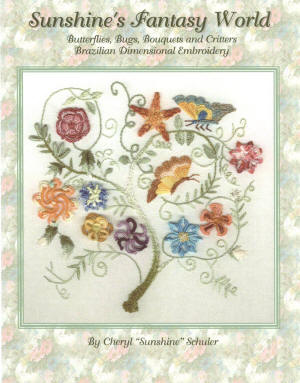 Dyelot changes may create a need to choose a different color. Below are weights and color ideas:
Greens: Boucle 302 1 skein, I used some of each of these colors: Iris 302,049,053,121
Buttercup: One light, one medium and one darker color Iris Yellow Iris 008, 069, 401
Lady Bells: Two Lola that go together Lola 115, 321
Queens' Crown: Iris -one solid and one complimentary shaded or variegated. Iris 122, 008
Tootsie: One shaded or (one color for the outer petals and another for the center.) Iris 404 or 074.
Tempies Tempest: One shaded or solid Iris. Iris yellow for center. Iris 140, 212, 008
Issies Blossom: 2 – 3 different shades of Iris. Light, med and dark. Iris 323, 407
Twizzler: 1 shaded or variegated Iris 007 (or 077)
Exquisite Drizzle Beauty: 1 shaded or variegated Iris. Iris yellow for the center Iris 008, 100
The Whirl: 3 different shades of Iris (Light, medium and a dark) Iris 135, 141, 143
Elegant Butterfly: KR041-4, Iris 140,063,071, 212
Golden Butterfly: Iris and/or Kreinik threads. (Iris Thread suggestion: Iris 072, (Iris 122 or KR 021 #4), (Iris129 or KR 027 #4), (Iris 130 or KR032 #4)
---
Join Our Email Newsletter

Enter E-mail address and first name, last name into box and press Subscribe. Newsletters will not be sent out more than once a week. There will be sales and information for subscribers only.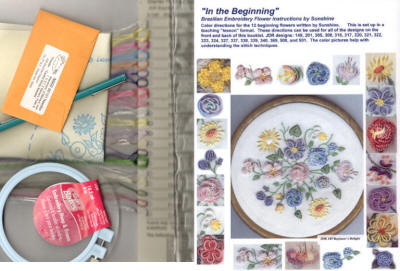 Brazilian Embroidery Starter Package $44.12 Value for $34.00