Beginners Brazilian Embroidery
Instruction Kit JDR Kit 5 (Print # 316) Rolled Roses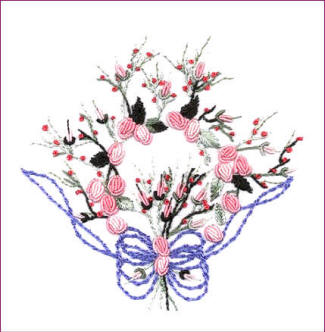 The new stitch taught in this lesson is the coral knot stitch. Coral stitch is also known as coral knot. Coral stitch is an old embroidery stitch which creates a line that looks like a row of knots. Coral stitch is used for outlines and follows a curved detail well. We'll also work with the bullions learned in lesson #2, to make roses. A review of the stitches taught in kit 1-4 are included in the directions.
JDR 316 Rolled Roses Fabric print with directions
JDR 316 Rolled Roses Learning Kit 5 Fabric print, directions, threads to complete the Brazilian Embroidery design and the required milliner needles. Thread colors may vary from package to package.
♥JDR 316 Rolled Roses OR Learning Kit 5

or Please make your fabric choice


♥FAB10x10

Add Backing fabric to match $1.00



6" x 6" Finished. Fabric 9" x 9"
---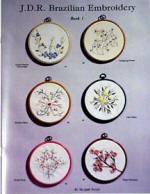 Do you want a little more help? This book is helpful but not absolutely necessary to complete this design. It includes help for the first 12 flowers that most stitchers learn.
JDR Brazilian Embroidery Book 1 by Ria Ferrell
BK-J101 $8.95
---
Do you need a hoop to stitch your project?
Suggested Susan Bates hoop:
SB 5 Hoop $2.60
---
Do you want to frame your design with a 6" Flexi-hoop?
FH 6 Flexi-Hoop 6" $2.25
---
You will be ready to stitch
Sunshine's Treasure's #5 Rosie The Rolled Rose

It is important for beginners to Brazilian Embroidery to use the kits in the right sequence as building blocks. Some of the basics are not repeated in the other kits. All JDR teaching kits are featured in the book "JDR Brazilian Embroidery Book 1" by Ria Ferrell, if you need a refresher. The book is NOT necessary if the proper sequence is followed and no steps are missed.
Kits with new stitches are: #1, 2, 4, 5, 6, 8, 11, and 12. Kits #3, 7, 9, and 10 reinforce, expand and change the layout of the stitches already learned.
Additional embroidery prints may be purchased as "Design with Directions" in CREAM or WHITE. These do not include the thread or the needles. These are not in a "teaching format" but as "directions".

Learning Kit 1 Cross Needle Hydrangea
Learning Kit 2 Creeping Flower
Learning Kit 3 Gerone Daisy
Learning Kit 4 Lazy Daisy
Learning Kit 5 Rolled Roses
Learning Kit 6 Peach Blossoms
Learning Kit 7 Bossa Nova Rose
Learning Kit 8 Cast-On Flower
Learning Kit 9 Japanese Violets
Learning Kit 10 Snow Flower
Learning Kit 11 April Flower
Learning Kit 12 Carnation
---
Join Our Email Newsletter

Enter E-mail address and first name, last name into box and press Subscribe. Newsletters will not be sent out more than once a week. There will be sales and information for subscribers only.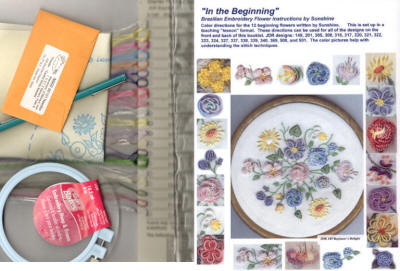 Brazilian Embroidery Starter Package $44.12 Value for $34.00