Main Categories

♥Table of Contents

♥JDR Brazilian Embroidery Designs
♥JDR 6219 - 6600 Gallery 9
♥JDR 6079-6214 Gallery 8
♥JDR 6029-6078 Gallery 7
♥JDR 391-6034 Gallery 6
♥JDR 352-390 Gallery 5
♥JDR 309-351 Galley 4
♥JDR 171-196 Gallery 3
♥JDR 137-170 Gallery 2
♥JDR 100-136 Gallery 1
♥Hearts and Flowers Designs
♥Quilt Sampler Designs
♥Brazilian Embroidery Learning Kits
♥Starter Package
♥Sunshine's Treasures

♥ Brazilian Embroidery Guest Designers

♥Delma Moore
♥Candle In The Cellar
♥Karen Buell
♥Maria Freitas
♥Mary Kurbis
♥Debbie Kelley
♥Brandi Mikla
♥Anna Grist
♥Christmas Designs
♥Quilt Blocks


♥Threads and Ribbons
♥EdMar Threads
♥Thread Packets
♥Kreinik
♥Japan Threads
♥YLI Candlelight
♥YLI Silk Ribbon

♥ New Notions
♥ Notions and Supplies Index
Brazilian Embroidery Supplies
Tools and Gadgets
Tool and Needle Keepers
Supplies
Thread Organizers
Embroidery Needles
Fabric Pens and Pencils
Needle Threaders
Hoops
Glues, Sprays & Cleaners
Cases and Totes
Scissors
Fabric
Magnifiers and Lights
Pin Cushions
Beading Accessories
Punchneedle Supplies
♥
Books and Videos

♥Paper Embroidery
♥Stumpwork
♥Beads and Baubles
Brazilian Embroidery Design Peacock Flower

Brazilian Embroidery pattern stitched with EdMar rayon Brazilian Embroidery thread.
This 3-dimensional design was designed by Debbie Kelley.

A Jacobean-style flower, stunning when stitched with the jewel-tone colors found in peacock feathers.
The flower is fashioned after the " open fan " appearance of a peacock tail.
The leaves echo the colors found in the bloom.
Covered pony bead " berries " complete the design.

6 " x 10 " on 15 " x 20 " fabric White or cream.

DK3836 Cream $16.00 How Many?

DK3836 White (SPECIAL ORDER) $16.00 How Many?



Complete list of DK Designs


Not all Embroidery designs are in stock at all times. Out of stock items/special order items will be ordered for you. They will be sent, separately, ASAP.
---


View Cart

Sunshine's Newest Book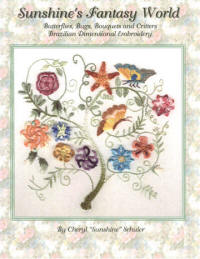 Sunshine's Fantasy World

Best Sellers
♥Thread Organizer
♥Thread Packets
♥Brazilian Embroidery 101 Book
♥Thorns & Roses Book
♥Marvey Pen

Information
♥Thread Inventory Sheets
♥Needle Size Charts
♥ Thread VS Needle Size
♥What do I need to begin?
♥Opening A Skein
♥Straightening Your Threads
♥Storing Your Threads
♥Technique "Levels
♥Knotting The Thread
♥Correct use of Hoop
♥ Gift Certificates
♥ Contact Us
♥ Printable Catalog

♥ Teachers Information
♥ Wholesale Information
♥Resources/links


DK3801
DK3802
DK3803
DK3804
DK3807
DK3809
DK3811
DK3812
DK3813
DK3814
DK3815
DK3816
DK3818
DK3819
DK3821
DK3822
DK3823
DK3824
DK3825
DK3826
DK3827
DK3828
DK3829
DK3830
DK3831
DK3832
DK3833
DK3834
DK3835
DK3836
DK3837
DK3838
DK3839
DK3841
DK3842
DK3843
DK3844
DK3845
DK3846
DK3847
DK3848
DK3849
DK3850
DK3851
DK3852
DK3853
DK3854
DK3855
DK3857
DK3860
DK3861
DK3862
DK3863
DK3864
DK3866
DK3867
DK3868
DK3869
DK3882

Visit our totally Dimensional site.


[ Back ]
[ This Area Home ]
[ Next ]

All JDR patterns & designs are copyrighted for JDR Brazilian Elegance. The design s presented for any other designer on our web site are also copyrighted by the individual designer. No part of this material/website may be reproduced in any form, in whole or in part, by any means-mechanical, electronic, graphic, downloading, photocopying, photographing, tracing or means yet to be discovered without written permission.
Prices are subject to change with out notice
Contact Us Ordering Information Shipping Fees Terms & Payments Back Orders/Special Orders Returns