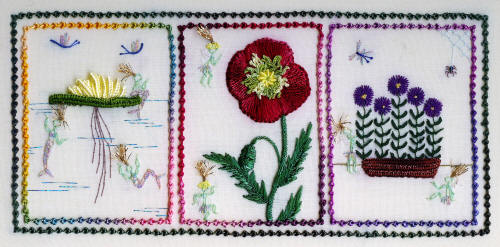 Calendar Girl Series July, Aug, Sept - Brazilian dimensional embroidery pattern stitched with EdMar rayon Brazilian Embroidery thread. This 3-dimensional design was designed by Debbie Kelley
Intermediate/Advanced
The water lily of July brings us mermaids! Two of them are swimming in the pond, the other is sunning herself up on the lily pad. August brings poppies and some fairies who have been eating too many poppy seeds! They are flying and dancing all around. In August we have the fairies arranging a nice basket of Asters for us, they are so thoughtful! The border is stitched with Debbie's cast-on variation of the One-Step Palestrina knot.
Knowledge of the following stitches will be helpful: straight stitch, lazy daisy, couching, double stem stitch, double cast on, French knot, satin stitch, bullion, cast on, fly stitch, and drizzle.
Design size is 10" x 4 3/4", fabric will be 18" x 12", cream or white
Thread needed to complete design: Nova 309, 310, 321, 327, 65, Iris 114, 50, 407, Cire 121, 134, Glory 150, 120, 42, 137, 401, 201, Kreinik Number 8 Braid 032, 095, 9194, Number 4 Braid 194, Tapestry Braid Number 12 202HL.
Calendar Girl Series
DK3868 July, August, September Cream
$11.00 How Many?

Calendar Girl Series WHITE
DK3868 July, August, September
$11.00 White How Many?

DK3868TP Full Skein Thread Packet (18 skeins)
Your price $34.20 How Many?

---