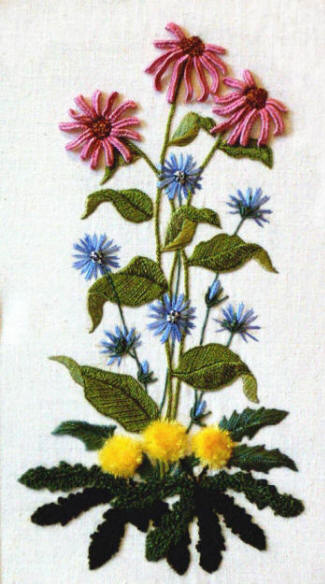 Accidental Garden - Brazilian Embroidery pattern stitched with EdMar rayon Brazilian Embroidery thread. The 3-dimensional pattern was designed by Debbie Kelley.
Advanced level Brazilian Embroidery Design.
This garden can happen anywhere! Echinacea, chicory, and dandelions: "Weeds are just flowers growing in the wrong place." Learn the art of creating "turned leaves," DK's Crazy 8's stitch, fringe stitch, and two-toned drizzle, and the blanket stitch leaf technique. It is helpful to know satin stitch, French knot, blanket stitch, turkey work, cast-on, bullion.

Design Area: 5" x 9" Fabric Size: 15" x 18"

Suggested EdMar and Art Silk Threads:
Echinacea - Iris 143, Rajmahal Art silk 235, 379 or Glory - 122, 211
leaves and stem - Lola, Iris, Glory - 215 (or Rajmahal 521)
Chickory - Rajmahal 211 or Glory 219, Glory - 144, 159
stems and leaves - Rajmahal 805 or Glory - 173
Dandelion - Rajmahal 93, 264 (or Glory - 114, 203)
leaves and stems - Bouclé - 149, 150.
Other Supplies needled: two 3" long needles, small piece of felt.
DK3863 Cream $16.00 enter quantity
DK3863 SO White (SPECIAL ORDER) $16.00 enter quantity


Not all Embroidery designs are in stock at all times. Out of stock items/special order items will be ordered for you. They will be sent, separately, ASAP.
---