Calendar Girl Series April, May, June -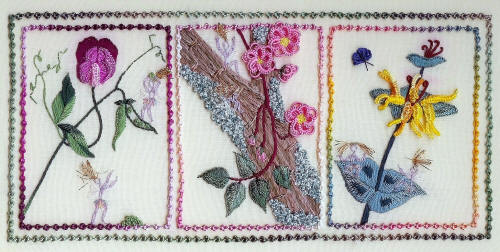 Brazilian dimensional embroidery pattern stitched with EdMar rayon Brazilian Embroidery thread.

This 3-dimensional design was designed by Debbie Kelley
Intermediate/Advanced Brazilian Embroidery stitching level.

April and the Sweet Pea, our Flower Of The Year. The fairies really enjoy the sweet "peas", they are just like candy! May brings us cherry blossoms, it seems we've gotten up early enough in the morning to catch the fairies as they are waking up. One is stretching, the other is almost invisible as she sleeps on her bed of moss. In June the honeysuckles are in full bloom. It appears that one of our fairies may have been consuming a bit too much nectar! Her hair is all askew and her wings have disappeared (even fairies know one should not "drink and fly").
Knowledge of the following stitches will be helpful: straight stitch, lazy daisy, couching, stem stitch, double stem stitch, double cast on, French knot, blanket stitch, satin stitch, bullion, cast on, and drizzle. Doodle cloth will be provided for students to use in class.
Design size is 10" x 4 3/4", fabric will be 18" x 12", cream or white
Thread needed to complete design: Nova 304, 322, 323, 310, Iris 141, 143, 135, 40, 173, 174, 153, 114, 158, 308, 73, 72 Lola 157, Cire 315, Boucle 165, Glory 201, 206, Kreinik Number 8 Braid 032, 095, 9294, Tapestry Braid Number 12 202HL.
Calendar Girl Series April, May, June
DK3867 Cream $11.00

Calendar Girl Series April, May, June
DK3867 $11.00 White How Many?
DK3867 TP Full Skein Thread Packet (20 skeins)

$38.00 How Many?
---