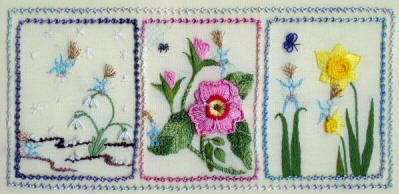 Calendar Girl Series, Jan, Feb, March Level: Intermediate
The Snowdrop is one of the first flowers to pop up through the January Snow. The fairies are delighted to see flowers again! Two fairies watch while one rides a snowflake to the ground (it's easy to be a daredevil when you have wings!). In February, they like to climb and frolic on the Primrose, March brings Daffodils and fun, spiky leaves to balance on!
Knowledge of the following stitches will be helpful: straight stitch, lazy daisy, couching, stem stitch, double cast on, French knot, blanket stitch, satin stitch, bullion, cast on, and drizzle.
Design size is 10" x 4 3/4", fabric will be 18" x 12" cream or white
Thread needed to complete design: Nova 306, 320, 323, 312, Boucle 50, 59, Lola 153, 121, Iris 121, 000, 114, 113, 209, Glory 201, 206, 120, 113. Kreinik Number 8 Braid 032, 095, 094, 1/16" ribbon 032, Number 4 Braid 194, Tapestry Braid Number 12 202HL.
Calendar Girl Series January, February, March
DK3866 Cream $11.00 How Many?
DK3866 White $11.00 How Many?
Full Skein EdMar Thread Packet (17 skeins)
DK3866 TP $34.20 How Many?
---