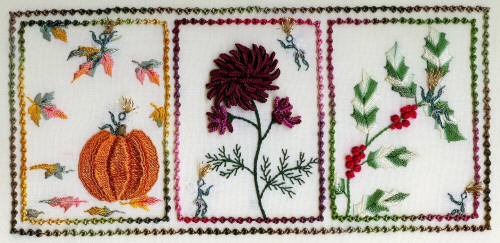 Brazilian dimensional embroidery pattern stitched with EdMar rayon Brazilian Embroidery thread. This 3-dimensional design was designed by Debbie Kelley. Advanced Level
NOTE: The only reason this is "advanced" is because of the bullions with over 60 wraps, the rest of the design is more of an intermediate level.
October brings falling leaves and pumpkins! Once again, that daredevil fairy is riding a leaf as it falls to the ground. The more "reserved" one watches and keeps her fingers crossed! In November we see gorgeous full Chrysanthemums! The fairies love the bright colors and sweet, crunchy petals! December is time for holly, and the folly of using the leaves as a slide. Knowledge of the following stitches will be helpful: straight stitch, lazy daisy, couching, double stem stitch, double cast on, French knot, satin stitch, bullion, cast on, fly stitch, and drizzle.
Design size is 10" x 4 3/4", fabric will be 18" x 12", cream or white
Thread needed to complete design Nova 315, 317, 321, 61, Lola 121, 122, Iris 122, 211, 163, 310, 214, 302, 150, Cire 101, Kreinik Number 8 Braid 032, 095, 085, Tapestry Braid Number 12 202HL.
Calendar Girl Series
DK3869 October, November, December Cream
$11.00 How Many?

Calendar Girl Series
DK3869 October, November, December
$11.00 White How Many?
DK3869TP Full Skein Thread Packet (14 skeins)
$26.60 How Many?
---